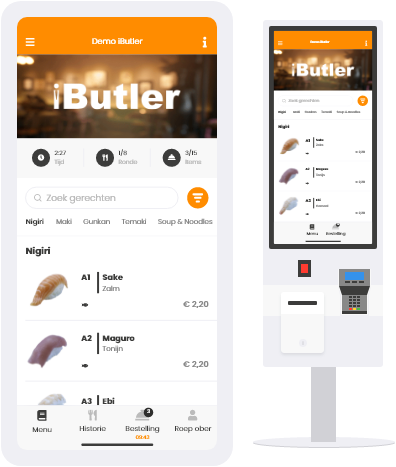 With iButler every hospitality business is future-proof
Did you know that with iButler your guests order 1 extra round of drinks on average? Not surprising when ordering a drink or snack is so easy. The lead-times are also a lot shorter.
See products
Meet your digital butler
Digital assistence for catering, hospitality, recreation and leisure industry. iButler is at your service with tailor-made solutions.
The best ordering system according to our partners
We listen carefully to the wishes of our partners. When it appears that our system lacks an important function, most of the time it can be realized quickly without too much fuss!
See the demo
iButler is applicable within any hospitality business.
Due to our mission to support the entire hospitality industry with digitization and automation, our products are flexible to use and suitable for any type of business. Regardless of;
Size
Micro, small, medium, large
Concept
All-you-can-eat, à la carte, self service …
Type
Restaurant, lunchroom, fast food, hotel …
What is going on at iButler
Stay informed about everything concerning iButler and trends & developments in and around the industry.